Blogs
Time to Deck the Halls
The holiday season may be viewed by many as "the most wonderful time of the year," but it is also the time of year where employers can find themselves on the naughty list – facing potential religious discrimination suits. Since Santa may not be the only one checking his list twice this year, it is important for employers to respect the diverse views of all employees during this festive time of year.
One potential area of concern during these winter months is holiday decorating. While employers should be sensitive to the myriad of religious/secular holidays celebrated near year-end, the Equal Employment Opportunity Commission (EEOC) and the Supreme Court have suggested that certain holiday decorations typically should not be an area for concern. [1]
Title VII does not require employers to ban the display of holiday decorations in the workplace, nor does it require employers to display holiday decorations associated with every religion. Thus, employers who choose to allow holiday decorations should not prohibit employees who wish to decorate their personal office spaces from doing so, even if the employees' beliefs are not shared by everyone in the office. However, employers opting to allow employees to "deck the halls" must be consistent – generally speaking, allowing Jenny to have a Christmas tree at her desk means Harry should be allowed to display his Wiccan pentacle, and Bill his menorah.
Naturally, this does not mean employers can force employees to decorate their personal office spaces for the holidays. Nor does it mean mistletoe decorations are a great idea for the break room. (There is truly no need for mistletoe in the workplace!)
When choosing to decorate communal office space, employers should remember that sensitivity to diversity of the workplace promotes a healthy and more inclusive work environment. Thus, employers should consider using secular decorations like lights, snowflakes, and garland in common areas as opposed to more religious symbols. Of course, faith-based organizations appropriately can include more religious decorations that reflect their faith.
Finally, some employers may want to take a page out of How the Grinch Stole Christmas and ban all holiday decorations. There is generally little legal risk in taking this approach, so long as there is consistent and uniform enforcement of the policy.
No matter what holiday decoration policy employers choose to enact, it should be applied consistently to all employees in order to ensure a happy holiday season for all.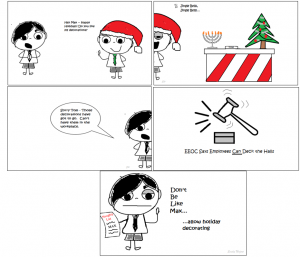 This blog should not be construed as legal advice.
____________________________________________________
[1] See EEOC Compliance Manual, (last updated 2011); County of Allegheny v. ACLU, 492 U.S. 573 (1989); Lynch v. Donnelly, 465 U.S. 668 (1984).
---
Duane Morris LLP & Affiliates. © 2023 Duane Morris LLP. Duane Morris is a registered service mark of Duane Morris LLP.
Powered by

Web Design by Media Proper