Blogs
Time Crunched? A Three-Part Series on Strategies for Boosting Your Productivity as an HR Professional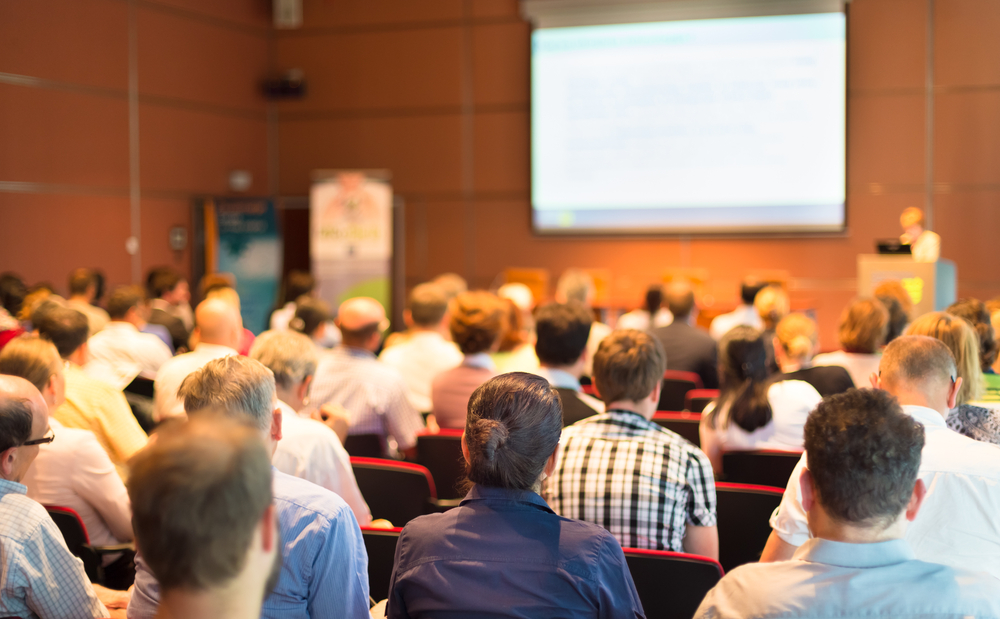 Part 3: Amplifying Your Attendance at Professional Conferences
In our Time Crunched? series, we've offered tips for mastering the art of time management in the HR realm. In Part 1, we looked at how to take advantage of the most productive times of your workday to get more done. In Part 2, we explored how to make employee trainings more efficient and effective. In this Part 3, we'll focus on getting the most value out of conferences.
Here are five strategies to help you transform from a passive audience member into an active curator of your next conference experience.
1. Plan ahead for what you hope to accomplish.
It's foolish to take time out of your busy schedule for a conference without considering the point of attending. Before you register, think through the goals you want to achieve. Ask yourself: what projects are in my pipeline? Does my organization have vendor contracts coming up for renewal? Does my organization have a technology gap?
Peruse the lineup of talks, workshops and other events planned for the conference. Go ahead and register if you find enough programming on the agenda for you to put together an itinerary for yourself that will help you achieve your goals.
For example, if you're looking to revamp your recruitment processes, you may plan to attend a conference seminar on pay equity so you can learn about the patchwork of laws that regulate whether and when you may ask candidates about their salary histories. Before the conference, write down the questions you plan to ask the speaker so that you can be prepared to participate in the session and apply what you learn when you return.
If you aim to expand your network in your industry, don't rely on chance encounters at the conference. Before you go, tell your colleagues, use social media, and post on message boards of industry groups to share your interest in meeting other industry players at the conference. These early efforts can lead you to find others with the same interest whom you could meet up with at the conference.
2. Be fully engaged when you're there.
If you constantly check your emails or step out to make calls at the conference, then you're bound to miss the opportunities for learning and connecting that motivated you to attend.
As you're waiting for a session to start, don't be glued to your inbox. Take that time to introduce yourself to those sitting near you. Think about what questions you plan to ask the speaker. Use the conference hashtag to post on social media about the talks you're attending, which is an easy way to learn who else is there and arrange real-life meetups.
Take good notes during the sessions you attend, preferably on a copy of the presentation materials given to attendees. Jot down what the speaker said beyond what is printed on the slides as well as the ideas the presentation sparked for your own work.
When the speaker stops talking, don't rush out of the room. Stay for and contribute to the Q&A session, which often produces key insights into the subject matter. Talk with other attendees about the presentation, such as what led them to register for the talk and what they plan to use from it in their workplaces.
3. Leave time for spontaneous interaction.
When creating your itinerary, leave blocks of free time in your schedule to interact with others. After all, how often are you surrounded by thought leaders, professionals in peer organizations, vendors, and perhaps representatives of government agencies that regulate your field?
Use the refreshments area, book table or other common space at the conference to strike up conversation. A chat while pouring a cup of coffee could lead to a candid discussion about how another company is reacting to new regulations, insight into the priorities of a government agency, recommendations for vendors to use or avoid, or the name of a candidate for a key opening in your organization.
4. Share what you learned.
Soon after returning, set aside time to digest what you learned while it's fresh in your mind. Write a summary of the key takeaways from each program you attended, using your notes as a reference point. Record the names, contact information, and what you talked about with each of the people you met at the conference.
If you're the only one from your organization who attended, it's important to share what you learned with colleagues. Rather than just emailing around a copy of the slide decks, give a brief presentation about the conference so that you and your colleagues have the opportunity for an interactive exchange. Circulate copies of your marked-up presentation materials, offer ideas for how to apply the takeaways to your organization, and solicit input from your colleagues.
5. Turn your takeaways into action items.
You may return from a conference with grand plans for implementing what you learned, but the frenetic pace of work can make it difficult to keep those plans on the front burner. To keep yourself accountable to those goals, write down your plans, share them with your team, set deadlines for the various steps, and create reminders on your electronic calendar for those dates.
Also, follow up on the connections you made at the conference. Be intentional about keeping the relationship going beyond that initial post-conference LinkedIn connection. Consider sharing articles relevant to their industry, inviting them to meet up at another conference or exchanging war stories at lunch.
In the weeks and months after the conference, think critically about what you gained from attending. Did the conference make you more effective as an HR professional? Has your organization benefited from the knowledge you gained or connections you made at the conference? If not, then consider exploring a different conference next time.
We hope these tips amplify your conference experience so that you and your organization can realize more value from your attendance.
For more guidance on navigating the world of HR, check out our upcoming DMi course offerings: https://dmiold.stage.mediaproper.com/courses
---
Duane Morris LLP & Affiliates. © 2023 Duane Morris LLP. Duane Morris is a registered service mark of Duane Morris LLP.
Powered by

Web Design by Media Proper